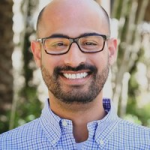 Abe Khan
No matter how much of a sports fan you are, you probably remember seeing Colin Kaepernick kneeling during National Anthem. President Trump took the debate to a whole new level when he said that anyone who does not respect the National Anthem and the flag should be fired.
Kaepernick and those who followed him are the most recent example of athletes using their sports as a means to protest, but history is filled with others who have come before them.
In this episode, we talk with Abe Khan, assistant professor of Communication Arts and Sciences and African-American Studies at Penn State, about the impact Kaepernick's actions had on NFL culture and the broader role that protest plays in a democracy.
Michael Berkman and Chris Beem draw parallels between modern-day sports protests and Dr. Martin Luther King's civil rights protests, and discuss the public's feelings on protests as reported in the McCourtney Institute's Mood of the Nation Poll.
Interview Highlights [6:28] Help us remember what happened with Colin Kapernick and where the issues have gone from there:
Kapernick's first kneel came at the end of August in 2016, it was actually at the end of a preseason football game. It actually didn't start as a kneel.
He used two phrases that came, at least in my mind, to define the substance of the protest. One is, bodies in the street.And the other is people getting away with murder.
[8:54] How did the protest spread after Kapernicks initial demonstration?
So I'll admit to being surprised about how quickly the Kapernick situation spread, but the number of athletes included 48 NFL players, 8 NBA teams, 14 WNBA players, including the entire squad of the Minnesota Links, a gold medal swimmer, 45 high school teams, 22 colleges, a middle school, and a youth football team in Beaumont Texas. 34 states, 4 countries.
[10:10] To wrap up this section about the history of the protest, where do things stand now?
One thing that emerged immediately after this was of course huge outrage, especially among NFL players.
Where were at is essentially a split in the players coalition, because I think  that the NFL saw that the players coalition as an opportunity to co-op the force of the protest. Eric Reid (one of the earliest players to join Kapernick)  and Michael Thomas (player for the Miami Dolphins) left the players coalition after the NFL promised to spend 100 million dollars promoting an agenda on criminal justice reform. This was seen as a bribe.
[12:03] Let's talk about that, NFL culture. Sports is is kind of the one non-partisan place in our society.
The problem is, is that all of the political place in sport had been consumed by simplistic and idealized images of the nation, especially in the 1980's and 90's. There's been patriotic symbolism in sports forever.
Patriotism and nationalism frequently get coded as a-political. That underwrites a form of attack on the method of protest. So to the extent that the anthem ritual is apolitical, disrupting the ritual will always be seen as an inappropriate intrusion of politics into sport.
[13:04] Who were some of those [athlete protesters] that came before him [Kapernick]?
Athletes have always used moments of patriotic ritual to express dissent. Of course the most famous example is John Carlos and Tommy Smith at the 1968 Olympics.
[14:40] Kapernick and these other athletes are effectively "on the job." What effect, if any, do you see this having on their actions?
The recognition that athletes are on the job is often used as the ground from which to criticize the protester.
[17:13] Do you think that Kapernick and those who have followed him were successful in making their points?
I think that the answer there is yes but I can understand those who say no.
[18:38] How do you think history will look back on Kapernick and the impact that he's had?
It's true that the problem of police violence and accountability got lost in the shuffle about free speech and angry screeds about patriotism but that, it seems to me, is a limited metric of success.